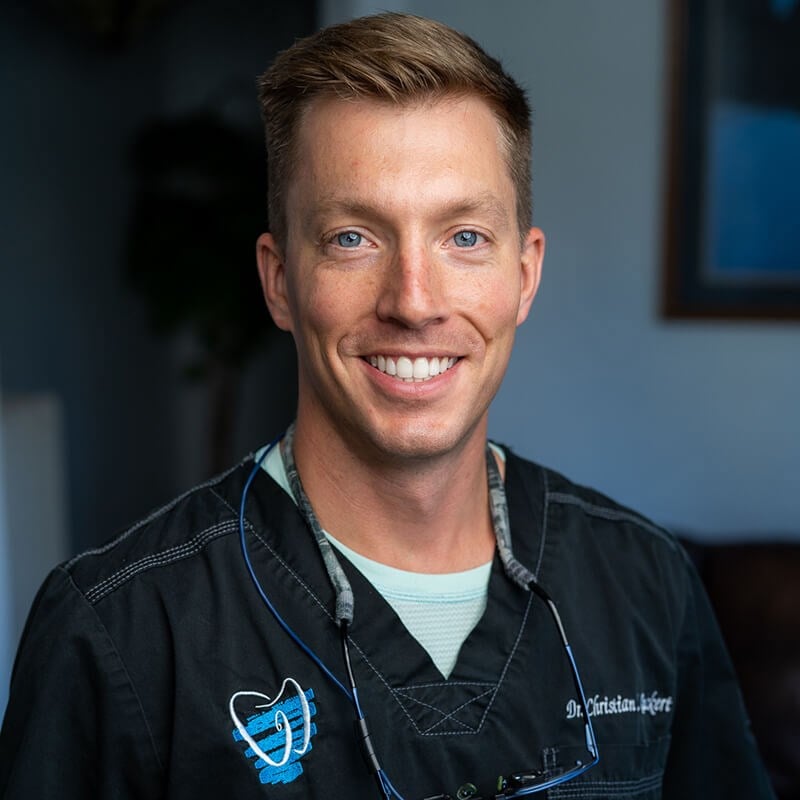 Dr. Christian Alex Ruckert is a doctor of dental surgery based in New York. He first earned a Bachelor of Science degree from St. Lawrence University in Canton, NY before moving on to the State University of New York at Buffalo where he earned his doctor of dental surgery. He later completed his general practice residency at Erie County Medical Center. He is an important part of our team and helps patients feel calm and welcome when they're receiving their oral care.
What is your area of interest in dentistry?
Comprehensive dentistry; focusing on patient satisfaction. I love making a difference in a patient's smile!
What organizations are you an active member of?
Spear continuing education
American Dental Association
New York State Dental Association
Where did you grow up and what brought you here?
I grew up in Rochester, NY in the suburbs of Fairport. My wife and I moved here in 2015 after residency programs in Buffalo, NY and Hartford CT, halfway between!
What do you love most about this area?
How many different outdoor activities there are; hiking, boating, golfing, and skiing.
What do you wish you could tell every patient and why?
Waterpik, floss, and brush!
What would you do for a living if you weren't a dentist?
PGA Golfer
How do you like your coffee or tea?
3 shots of expresso!
Reviews & Testimonials
"Had to come in to take care of some old fillings that fell out over the years. Saw Dr. Ruckert -- very professional. Procedure was quick and painless. Plus he plays some awesome tunes while he works...Led Zeppelin and George Thorogood ftw!"
C.H.
Yelp
"I came to this dentist because I had had a bad experience with the one I was going to. I'm not the best Dental patient ever, because I hate the noise and stuff, but they were awesome and patient with me. Shannon helped find me an office which suited my home/work balance. She and all the staff were extremely pleasant and friendly, and it would even appear to be a good place to work. They quickly identified the problem, and found a few more which they visually pointed out to me with pictures. They got me in quick after I called, and it appears that their appointments and their office hours are also conducive to a work/home balance. I will have to go back and have additional work done, but they already calculated an approximate amount that I would owe on my next visit after my insurance. I didn't feel rushed and nobody dismissed me as being silly.... I guess i've found a new dentist. 😁 update-So, I broke a tooth, which was on the schedule to get filled with a possible crown. I delayed. It wasn't painful at first, but i kept catching my tongue in the hole and it would slice my tongue-which was painful. I called the office, and my new favorite dentist-Dr. Ruckert wasn't in, so I had to see Dr. Selgado. Dr. S as he asked to be called. I wasn't too impressed. He seemed to be caring, but totally wrote my tooth off as a root canal and crown. He said there's no way he'd be able to clean it up and drill for a filling without it needing a root canal and crown, to do anything otherwise would cause me pain and discomfort. When I asked him if he could give me any idea how long my tooth could hold out while I decided its fate (because I currently am not in a financial position to do this kind of work) he said, the letters after my name are DDS no GOD. Dude, you have the xrays, and your expertise that allegedly go with that DDS at the end of your name. I explained I wasn't looking for an exact date, but I can't see it. I can't tell how bad it is, so telling me a week or so, would've even made me happy, but that DDS/GOD thing made me think his letters should be EGO after his name. Even the assistant urged me to see my regular dentist(which I already planned to). Today, I saw Dr Ruckert, and right now I feel like HE should accept the GOD at the end of his name....So far so good. I have a filling, and he filled another one-and so far, it feels fine. No pain like was suggested by Dr S. My gums are a bit sore, but otherwise I am doing fine. no hot/cold sensitivity. Thanks Dr. Ruckert..... you did an excellent job. I realize it may not hold, because of the damage that was there, but this certainly buys me some time and is so far....pain free. My tongue thanks you too!!! :)"
K.H.
Google
"I was looking for a new dentist. My previous dentist retired. I was very impressed with how modern and clean this office is. The staff is friendly and informative. The hygienist, Linda was thorough in cleaning my teeth and with explaining issues that I was having with my teeth. I was excited when I found out that Dr Ruckert does Invialign in this office. I have wanted to get my teeth straight again for years and I thought I would have to get braces again. He was very informative and showed me what the trays looked like. He didn't make me feel rushed and took the time to answer all of my questions. I am now looking forward to my first set of Invisalign trays and getting my teeth straight again."
F.J.
Google
"I've been coming to this dentistry for several years now and I've been pleased with the service every visit. The staff are always so friendly and professional. The facility is always nice and clean. Dr. Ruckert is very professional with his work and gives you detailed information of what's going on with your teeth as well as what would be the best option to take care of any problems if they arise. Very friendly. My hygienist Linda is great at what she does. My teeth always feel and look great after every checkup. She's very friendly and will engage in conversation to make your experience a comfortable one. Definitely would recommend anyone who is looking for a dentistry that ensures your teeth will be taken care of from start to finish in the most comfortable way possible."
A.M.
Google
"I have had bad experience with Dentist before and today Dr. Ruckert took the time and was patience with me. From the time you walk in their door till you leave everyone was so nice. I would recommend this practice. Thank you"
N.M.
Facebook
Related Posts